Recently I shared a story about cycling and depression over at ZwiftBlog.com. In the weeks that followed my world blew up a bit. People began contacting me left and right saying that they too deal with depression or another chronic illness. Some have said my writing has helped them understand depression a bit better. Person after person from the UK, Canada, Japan, Australia, near and far have been incredibly encouraging. "Ride On!" "Keep it up!" "Keep sharing!"
It got me thinking about the time I was spelunking in high school. We all turned our headlamps off and it was so incredibly dark you literally couldn't see your hand just an inch from your nose. But then one little lamp came on further down the line and everything changed. You could see. It wasn't bright, but it was no longer completely dark. I believe it's like this for depression too. When you don't talk about depression it stays in the dark and so do you. When you shine even just a little bit of light on it, it's not as dark. That doesn't mean it doesn't hurt as bad, or that it doesn't hit as hard, but for me shining a light on it means it's less daunting. It means I feel less alone. It means I can push through and make better choices through it.
Knowing there are many places in the Bible that talk about light and darkness I decided to look some up. One of my favorites is Psalm 139:7-12– "Where can I go from Your Spirit? Or where can I flee from Your presence? If I ascend to heaven, You are there; If I make my bed in Sheol, behold, You are there. If I take the wings of the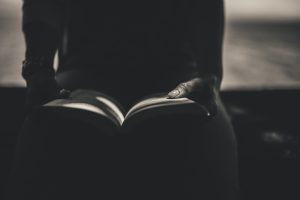 dawn, If I dwell in the remotest part of the sea, Even there Your hand will lead me, And Your right hand will lay hold of me. If I say, 'Surely the darkness will overwhelm me, And the light around me will be night,' Even the darkness is not dark to You, And the night is as bright as the day. Darkness and light are alike to You." Can you even picture that? In that dark, dark cave where I couldn't see my own hand He could see perfectly as though it was day. And in that dark, dark place my head goes to when I'm slumped on the floor wishing the depression would go away? He can see in and through me as though there is no darkness. I can't run away from him! I can't be too dark for Him! So thankful for that! So thankful!
So what is your story? Today you should share the part that needs some light shone on it. I started small. I started with one person. You can do that too. Share with someone safe and share it with God. Even though He already knows your story it makes a world of difference to speak it back to Him, acknowledging what's going on.